UltraViolet Uforia-Event Horizon
Event Horizon-UltraViolet Uforia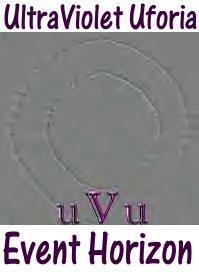 Sometimes I think the word eclectic is the most over used word in the English language, so I'll try to only use it once as I attempt to describe the sound of UlrtaViolet Uforia on their latest release Event Horizon. Their sound is eclectic with a range of influences that starts at Frank Zappa and ends with Sarah McLachlin. This band took me on a wild road trip and I swear there were times when I thought Hunter S Thompson himself was behind the wheel. Too crazy a referrence for you? Okay they have a laid back take your shoes off pack a bowl hang out for awhile sound.

What i'm digging about these guys is their don't worry it'll all be alright attitude displayed on the albums first track 'Away From it All'. A dreamy sounding ode to a lady named Mary (Jane that is) where a stressed out wanderer of life calls out to his only friend:

When I want to get away - get away from it all
And the time remaining's getting small, small, small
When the arms around me get a little more tight
And the knuckles on the chair grow a little more white
When I just can't find no peace in the night or the day
And nothin' but bad news seems to come my way

Ooh, I call to Mary .....

My trippy little ride came to a screeching halt with what judging from the title I thought was going to be a love song. Goodnight Irene! told the way too close to home story of an honest hard working American trying to carve their space in the corporate world. Our heroine in the song tries her best only find herself not able to land the big deal because some corporate giant who gives key chains to their employees on Employee Apreciation Day was able to under bid her. Bitter and distraught Irene does the un-thinkable. The grinding Rocky Horror like organs were still echoing in my head as the next song started. Aptly enough Goodnight Irene is followed by Windsong, a somber woodwind lead instrumental that plays eerily enough almost like a funeral march.

From this point forward the album recaptures it's laid back rasta party vibe. Angela Flowers are blooming with Zappa influenced sounds and lyrics. The 9 minute plus In the Air closes out the album and sends us back on our way to the reality we must live in.

It's good to know there are artists out there who take themselves seriously but still enjoy having fun with the music and are doing their best to share that feelings with the rest of us. At times the albums sound may seem a little on the flat side, but just a little. I think the only reason this happens is because this is the type of band you must see live in order to truly appreciate their sound. An all day long festival where the temperature is in the 90's the beers are ice cold and the ladies are wearing as little as possible then suddenly they want to dance, that's where you'll find people grooving, enjoying themselves and appreciating this group of talented artists.

In total the album has 10 tracks with a running time of just under 60 minutes. It's priced reasonably and can be purchased through their website. These guys are veterans and they have a lot to offer, if you buy two of their albums you get two free, so you get a total of four albums for the price of two, what a bargain!
|